The Ultimate Guide to Filming Short-Form Videos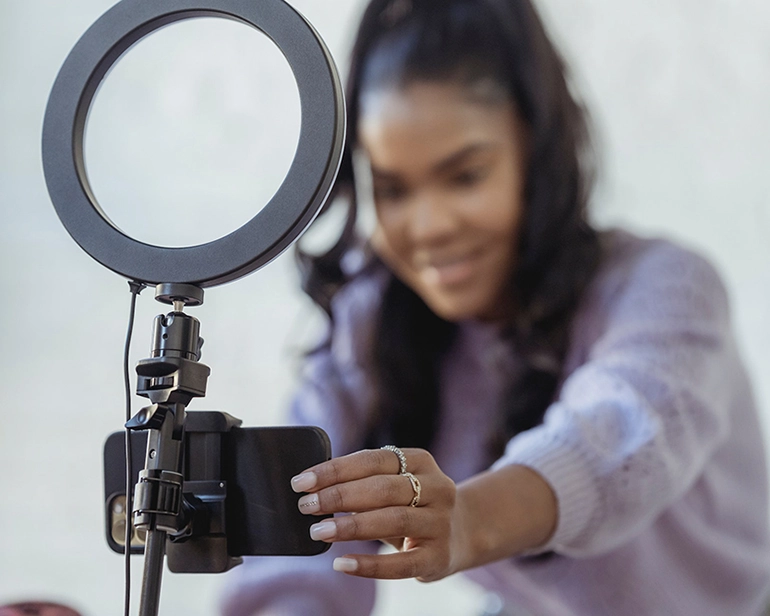 Short Form video content is the fastest growing marketing trend right now, according to HubSpot's 2023 Survey. Videos are an excellent form of content that work well no matter what business you are in. They're a great tool for getting your message out on social media to your audience as well as spreading your message outside of your circle.
We've created this ultimate guide to short-form video content to teach you what short-form video content is, and to show you how you can get started creating video content for your business.
What is a Short-Form Video?
Short-form videos are exactly what they sound like... short videos. They are often 60 seconds or less, though sometimes they can span up to three minutes long. They are commonly used on social media to get a lot of information out to an audience in a short amount of time. They come in many forms and are used to spread all kinds of different information online.
They are great for reaching a wide audience, or even just for reaching an audience outside of your current following. Social media platforms that allow for short-form videos have very specific algorithms that work to target people based on things like their age, interests, and lifestyles. These algorithms use AI to find the people who may be interested in your content, and they show your video to those specific groups of people.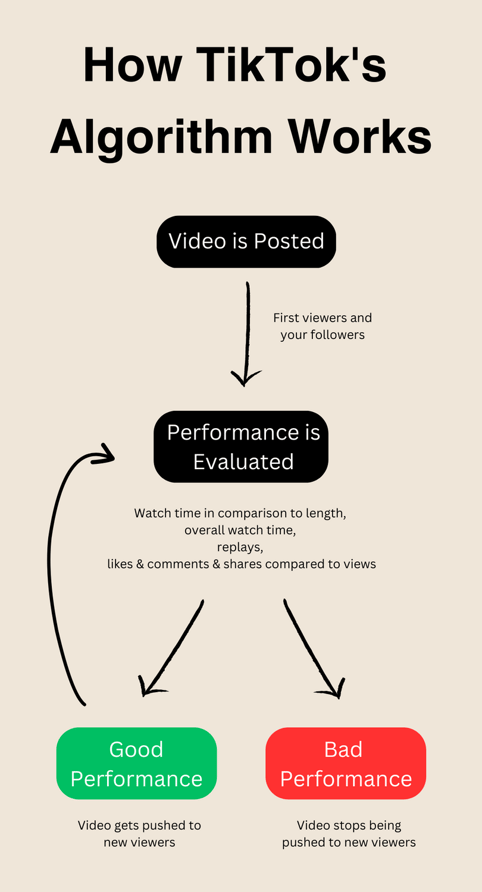 Social Media platforms also use hashtags to get your content to the right audience. Hashtags are a great way for people searching for certain topics to find information on those topics. They also work in social media algorithms to sort content and send it to the audience who most often interacts with content associated with that hashtag.
For example, if you are scrolling through Instagram Reels or TikTok, and you constantly like funny cat videos, you'll notice fairly quickly that you will start to see more and more funny cat videos showing up on your feed.
Examples of Short-Form Videos
Although almost every social media platform is now adding short-form videos to their list of content creation options, here are a few of the most common platforms you can find short-form videos on.
TikTok
@businessinsider

In the third and final episode of "The Hiring Journey," entrepreneur and former pro athlete @GabbyReeceOfficial wraps up her time @wbsurfcamp in Wrightsville Beach, North Carolina. She finds out how new employee Bailey Kaufman is settling into her role, and speaks to founder and president Rick Civelli about how Indeed connects his company to the best possible candidates. Watch the full episode at the link in the bio. Sponsor Content by Indeed for Business

♬ original sound - Business Insider
Formerly called Musical.ly, the platform was first introduced in 2014 and began as a lip-syncing app. Just a few short months before the Vine app was discontinued.
Vine kickstarted short-form video content with its videos only being six seconds long. However, after Musical.ly merged with TikTok is when we really began to see short-form content start to take off.
Instagram
Not long after TikTok started to take off in popularity, Instagram introduced Instagram Reels. Much like TikTok, Instagram Reels are filmed in portrait orientation and are 90 seconds or less.
YouTube
While YouTube is already a popular platform for videos, and it even allows for videos that are hours long, they also jumped on the short-form content train and introduced YouTube Shorts. YouTube Shorts are sixty seconds or less, and like the other platforms, are also filmed in portrait orientation.
Common Types of Short-Form Videos
Short-form videos cover an array of categories and topics, and they can be about pretty much anything. These are a few general types of short-form videos that businesses use across all platforms.
Comedy - Businesses often use comedic videos to drive traffic to their website and make relatable content that helps promote their products or services.
Informational - Videos that give information on a business. This can be information on a product or service, information on who the business is, or information about any other topic related to your business.
Tutorials - Tutorials are a great way to teach people how to use your product or service. These types of videos work for nearly any industry, and are more likely to be shared because they add value to your products and services.
Story-Sharing - Business use story-sharing videos to showcase testimonials from their customers and encourage others to try their products or services.
Challenges - Businesses will sometimes join in on social media challenges as a way to support a charity, keep their business relevant, or just to join in on the fun that challenges bring.
Lip-Syncing - Lip-synching videos are a fun way to promote different aspects of your business by using a trending sound.
Trends - Many businesses create videos created based on trending songs, sounds, or hashtags as a way to gain visibility within the algorithm.
Why Are Short-Form Videos So Popular?
The move to short-form videos is so popular right now because this type of content is easily accessible by everyone and can be easily created by anyone. These videos allow content to be easily digestible in a small amount of time.
The Power of Short-Form Video Content
Short-form videos are a powerful marketing tool, and they are beginning to be one of the most relevant types of content that consumers are actively looking for. Nearly every social media platform is beginning to offer some version of short-form content, and it's likely that this kind of content will be the standard in the new future. If you aren't already making short-form videos for your business, now is the time to create a content strategy that includes videos for several reasons.
Attention Spans Are Shrinking
According to doctors, because of smartphones and the internet, most people's attention spans are getting shorter and shorter. On average, people will only watch a video for up to two minutes before their attention shifts to something else. So unless you are creating extremely engaging content, your marketing message needs to get out clearly and concisely.
They Create Clearer Messages
Short-form videos can be used to your advantage because they can help you narrow down your message to what's important. Since you only have a short amount of time to talk about who your brand is and what you do, you can pick the most important things people need to know and create content based on it. These short bursts of information also make coming up with content easier for you since you can choose one aspect of your business to focus on at a time.
Your Message Will Be Easier to Remember
You can use short-form videos strategically to relay information about your business to your audience. Since these types of videos aren't an information overload, consumers are more likely to remember who you are and what you do.
By the end of the video, your audience won't forget what your initial message was since short-form content leaves less room for what you're conveying to get buried or muddled.
How Can I Get Started Making Short-Form Videos?
Luckily, it's super easy to get started making short-form videos, and you don't need a ton of fancy equipment to do it!
Here's our advice:
Write Your Ideas and Inspirations Down
You may have everything you need to get started making videos, but one of the most difficult things to do can be consistently coming up with content ideas. This is why it can be super helpful to keep a notebook or journal to keep all of your ideas in one place!
Another great way to keep yourself inspired is to follow people who create the kinds of content you want to create, and produce videos in a similar style, but never completely copy them. You can also get inspiration from videos that are trending, and depending on your business, hop on a few trends yourself!
Choose a Platform and Create a Schedule
Choosing the right platform to start posting videos on will take some research. You need to determine who your target audience is, and then find out which platform they are using. Wherever your target audience has the largest presence should be the platform you choose to use.
There are tons of great options, and you can find an audience for nearly any niche on TikTok and Instagram. Once you've decided on which platform to use, create your content schedule and decide what to post and when to post it.
Gather Your Equipment
To get started, all you really need is a smartphone, and a solid marketing plan, though there are a few extra things you can do to ensure you're making high-quality videos.
Depending on the type of videos you're planning on filming, you may want to get lighting, such as a ring light, or find some props to help tell your story. You can also get editing software to fine-tune your videos before you post them. There are tons of great free options including Capcut, PowerDirector, and iMovie if you are on an iPhone.
These extra equipment options aren't a requirement to create great short-form content, but they do make your filming and editing easier and up the quality of your videos.
Set Time Aside for Filming and Editing
Filming and editing videos takes a lot of time and work, so you need to set aside your time accordingly. Making a schedule for both filming and editing your short-form content helps you plan your time and also keeps you more consistent. Producing videos has a learning curve. It may take some time to figure out how long it will take you to film and edit.
However, once you practice, and learn more about video production, you'll have a better idea on your timing and will be able to create your schedule more easily.
Start Posting!
If you still need more help, WorldLight Media can help! Contact us with any questions you have, or let's talk about creating short-form videos for you.