How to Promote Your Business with Hashtags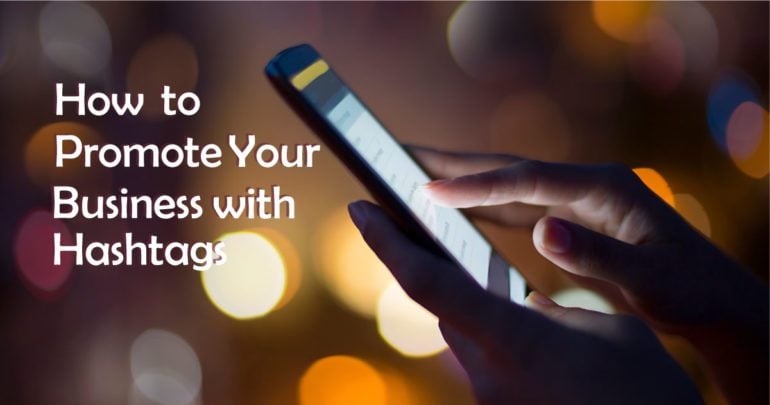 We know how to promote your business with hashtags. To get started today for free, you can use the strategies below. And for a customized plan, reach out to us to find out how we can work together to catapult your business into a successful new year.
Promoting Your Business with Hashtags is Important
Not only do hashtags increase social media engagement, but also, they attract your next customer. Hashtags help people find you online. They help boost your chances of being found organically by consumers.
Plus, they're free!
Who doesn't want to profit from free marketing?
To maximize the best ways to promote your business with hashtags, it's best to have a Social Media Strategy. Some companies do this on their own. Others stay focused on their most important tasks and hire experts to build their strategy.
If you want to take the guesswork out of your Social Media Strategy, then contact us. We'll do the busy work for you.
Insert Niche-Specific Hashtags on Every Online Post
To define your brand and garner attention from your ideal audience, you'll need to do some research. And then maximize the best hashtags to promote your business.
Identify hashtags that have 100,000-500,000 posts already associated with your niche-specific topic. Any less? You might get grouped into archives with little engagement. More? You will likely be grouped into archives targeted by robots. Then, you might receive unfavorable activity on your social media outlets.
Also create 1-3 branded hashtags that you can use specifically for your brand. Or a particular campaign you promote often. For example, if your business is real estate in the Fresno, California area, then you might use #FresnoRealEstate. Furthermore, if you focus on investments within the real estate industry in Fresno, then you might also use #FresnoRealEstateInvestments.
Niche-specific hashtags promote your business for you. Plus, they will likely cause your brand to land near the top of searches.
Use More Than 1 Hashtag to Promote Your Business
Make sure to use a popular hashtag that is related to the content in your post. Include an industry hashtag that is related to the clients you serve. Insert your branded hashtag. And then also a niche hashtag to target the audience you want to serve.
Using the same real estate business from above, here's an example. If the real estate company posts content related to "now is the best time to buy a home," then these hashtags could follow the content. #BestTimeToBuyAHome #FresnoRealEstate #FresnoRealEstateInvestments #RealEstateInvestments
Be Consistent to Promote Your Business with Hashtags
Content hashtags will vary, but industry, branded, and niche hashtags need to be consistent throughout all of your online content.
Stay Abreast of Hashtag Trends
Don't use trendy hashtags for the sake of being cool. However, when a trending hashtag is related to your industry, brand or niche, you can create buzz about your brand.
How to Promote Your Business with Various Hashtags
Local hashtags attract nearby customers. Bot action and charitable hashtags help people become a part of a movement. Promotional hashtags help others find the best products, services and sales. Descriptive hashtags help consumers understand what you provide and why.
Ready to Promote Your Business?
WorldLight Media is a Strategic Branding and Web Design company. We're committed to providing excellence in client service.
We're also entrepreneurs. So, we understand the ins and outs of running a business. That's why our core value is to provide the best value for your money.
Our goal is to build your company a lucrative asset. When we complete your Social Media Strategy, it will be an invaluable intellectual property that substantially increases the value and worth of your company.
For more on how to promote your specific business with hashtags, reach out to us.