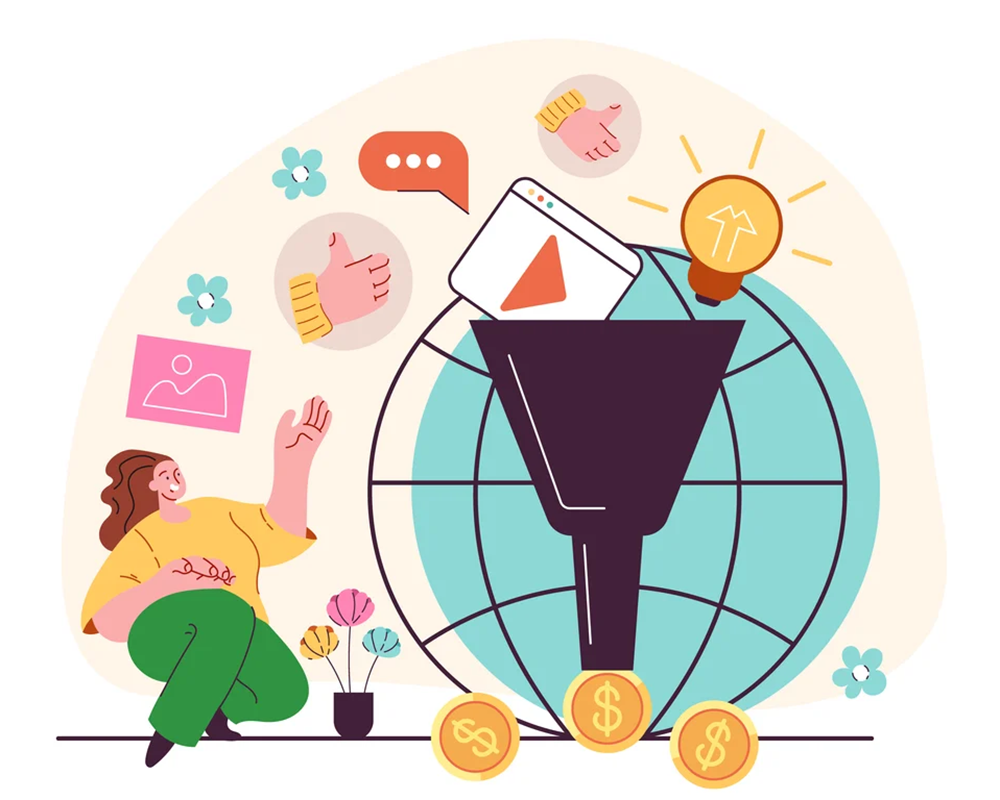 It's nearly impossible for a business to grow and thrive without strategic marketing in place, so here are five tips for marketing from a digital agency to make sure you're headed in the right direction.
Tip #1: Use SEO and Content Marketing to Get Found on Google
People do Google searches when they are looking for information and/or solutions to a problem they're having … sometimes in the current moment. People rarely search past the first page of search results, which is why it's so valuable to be found on page 1 of a Google search.
SEO — search engine optimization — is how you get on that coveted page 1 of a Google search.
Content marketing — regularly publishing high-value content that serves your audience of prospects and customers — is how you get on page 1 of the results for a wider variety of searches.
Inbound marketing- focuses on helping your potential customers find you instead of you going out to find your customers.
Tip #2: Generate and Collect Leads from Your Website
While some people will take action right away when they land on your website, others are still in the evaluation and comparison stage. Many will leave your website and forget about you …
Unless you have a way to follow up with them.
When you put lead-generating elements into place on your website … when you collect contact information from people who are interested but not quite ready yet to buy from you … you get their permission to follow up with them.
And the fortune is in the follow-up.
Tip #3: Have a Strategic Plan for Social Media
If your audience is on social media — and who isn't these days? — then you should be there, too. Social media can be a highly effective marketing tool for driving traffic to your website so that people can learn more and eventually buy your products and services.
But you should treat it as a marketing tool.
Using social media for marketing your business is very different from your personal social media usage. You'll want to be sure to have a strategic plan that addresses and accomplishes specific business objectives.
Also, a note of caution about social media: it's risky to build your entire business on social media. You don't own the platform. It's rented property, and the landlords can change your rental agreement at any time.
Tip #4: Build an Email List and Use It
Instead of relying just on social media to connect with your audience, it's smart to incorporate email marketing into your overall strategy as well.
Collecting contact information allows you to follow up with both prospects and current customers on your own terms. You can send them additional information, special offers, news about new products and services, etc.
Email is a powerful marketing tool for both customer acquisition and customer retention. It can make a dramatic difference to your bottom line when used with skill and strategy.
Tip #5: Pay Attention to Metrics and Analytics
Just as you pay attention to metrics like your accounts payable, accounts receivable, working capital, debt to income ratio, etc. to keep the financial side of your business healthy, you also need to pay attention to metrics to be sure your marketing is healthy.
Some of the digital marketing metrics and analytics you should be reviewing regularly are unique website visitors, source of website traffic, click-through rate, conversion rate, etc.
Your metrics and analytics give you insight into prospect and customer behavior. They tell you what's working and what needs to be adjusted to get better results. They keep you pointed in the right direction toward success.
Bonus Tip: Use a CRM to Make All of This Easier
A good Customer Relationship Management (CRM) system can combine all of these client interaction marketing elements under one umbrella so that you can easily see how they all work together.
Contact us if you'd like a personalized recommendation of a CRM that will meet your specific needs.
We're Here to Help
WorldLight Media is a digital marketing agency committed to helping clients just like you succeed.
We help good companies grow faster with strategic branding, web design, digital marketing, and marketing automation that gets measurable results. And we're here for you, too, if you need help.
Contact us today to start the conversation or click here to learn more about the services we provide.