How to Start Your Own Video Podcast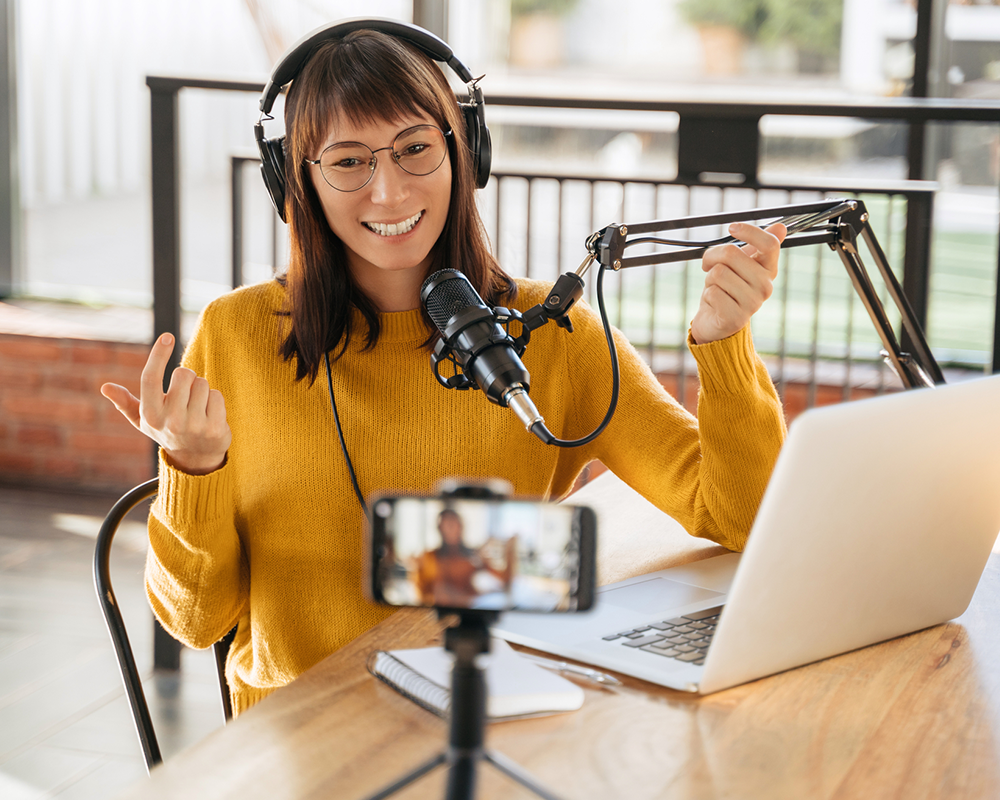 A podcast — especially one that includes video — is a valuable marketing asset for your business, and it's not that difficult to learn how to start your own video podcast. So let's explore just what that might look like for you.
But before we talk about starting a video podcast, you should know that podcasts are highly popular. The industry is big and expected to grow even bigger … up to $4 billion by 2024 according to a study prepared by PricewaterhouseCoopers.
According to Buzzsprout, more than one out of every three Americans listen to podcasts regularly. And more Americans listen to podcasts each week than have Netflix accounts.
Further, video podcasting is a growing preference among podcast audiences. In fact, Inside Radio reports that 57% of people say they prefer podcasts with video.
57% of people say they prefer podcasts with video.
The good news for companies exploring this option now is that the competition is still low … meaning you can still stand out with your own video podcast. Riverside reports that in 2019, only 17% of podcasters recorded video as well as audio.
Now, just so we're on the same page, a video podcast is simply a podcast presented in video format instead of being audio-only. Often, the video element features the podcast hosts and guests as they record the episode.
For an example of a video podcast, check out the Extremely Valid Points podcast here.
Steps to Start Your Own Video Podcast
1. Plan Your Podcast
Things to consider and decisions you'll need to make when planning your video podcast include:
Topic/theme
Show format (number of hosts, guests or not, length of episodes, etc.)
Length of episodes
Frequency of episodes
Content calendar
Monetization (via sponsors, ads, donations, etc.)
Promotion strategy
Success metrics (number of subscribers, downloads, page views, average listening time, etc.)
2. Record Your Video Podcast
While it's not recommended to script your podcast word for word — because simply reading a script isn't always very engaging — you should at least have your major talking points planned out.
If you're interviewing a guest, you should have questions planned in advance … and given to the guest in advance so they're also prepared.
The equipment you'll need to record your video podcast includes:
Microphone
Video Camera
Noise-Canceling Headphones
Good Lighting
Professional Background
Studio or Soundproof Room
Recording Software
Or, instead of investing in all of this equipment, another option is to rent studio space where you can rent professional-grade equipment as you need it.
3. Edit the Video
Once you've recorded the raw video content for your podcast, you'll want to edit it so that it's polished and professional. This includes adding intros, outros, and any ads (for third-party sponsors or for your own products/services).
You'll need video editing software for this, or you can outsource the video editing and podcast production to a professional.
4. Create a Branded Thumbnail Image
Your video podcast also needs a branded thumbnail image for each individual episode. You can do this yourself with image editing software, or hire a professional graphic designer.
5. Upload the Video
Next, you'll need to upload your video podcast to a hosting provider. YouTube is the most obvious choice, but other options include Podbean, Castos, and Anchor.
Additionally, we recommend a website for your video podcast … either a dedicated page of your company website or a separate, dedicated, stand-alone website just for the podcast … or both!
For example, our Extremely Valid Points video podcast episodes can be found at the following locations:
6. Promote Your Podcast
Of course, once you've created and published your video podcast, you need to promote it so people can find it and watch it.
Some promotion strategies include posting short outtakes on social media, sharing individual episodes on your blog, including it in your email newsletter, linking to it in your email signature, etc.
Ready to Start Your Own Video Podcast?
If you see the benefit of tapping into this popular marketing medium and want to get your company in front of all the consumers who enjoy podcasts … if you want to attract new customers in an engaging, value-driven way … but starting your own video podcast seems like a lot …
Know that help is available. You do not have to do it all on your own.
In fact, we invite you to reach out to our team of experts here at WorldLight Media to further explore whether a video podcast may be a good fit for you and your company and see how we can help make it a reality.
Get in touch with us using the easy and convenient online form here. We look forward to talking with you soon.