7 Website Design Trends for 2024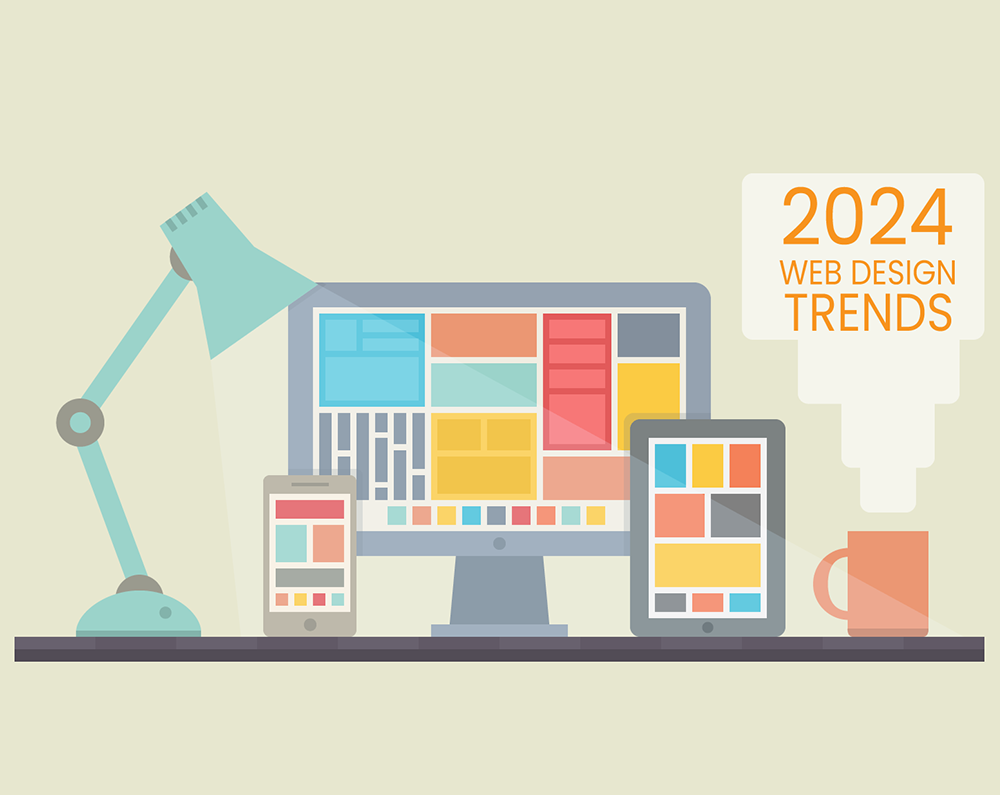 Web design is a complex balance of art and science. It's an ever changing landscape driven by technology, big data, and changing marketing trends. So what's can we expect to see in 2024? We've compiled 7 Design Trends you can expect to see in the coming year.
As technology continues to evolve, how people want to interact with a company online, what they expect, and what they find appealing also evolves... and company's websites have to keep up. But it's not just about technology. Just as fashion, news, and lifestyle progresses web designs should stay relevant to popular culture.
So, here are 7 website design trends expected for 2024:
1. Voice Search
Using voice assistants instead of texting a search query is already the norm, and it will take priority in 2024. Website design needs to integrate voice search strategies in terms of content and SEO in order to be relevant with user-preferred voice search.
2. Minimalist
Expect more websites that are simple, streamlined, elegant and efficient in 2024. This trend is all about saying more with less and not taxing visitors' shorter attention spans.
3. Eye-Catching and Edgy
On the other end of the design spectrum, creatively edgy website design will be trending in 2024. This trend embraces bold color, splashes of text, innovative graphics, and the creative use of unexpected elements to capture the attention of website visitors.
4. Video Backgrounds
This design choice isn't entirely new, but expect it to be used in new ways to make the web experience feel more interactive, interesting, and immersive.
5. Typography as an Impact Element
In 2024, the words on a website will do more that communicate meaning, they'll also be a style statement. Typography trends will include mixing fonts, artsy and custom typography, and moving or animated text. Expect to see Extra large typography to dominate hero images.
6. Interactive Elements
Look for websites in 2024 to include more interactive elements like animations, video, and interactive graphics to keep people on the site longer as well as elements that get them to click, scroll, swipe, or otherwise engage with the site
7. Behavioral Design
Behavioral design combines psychology, design, technology, and creativity to make the user experience more interesting. Visitors are encouraged to take specific actions and perform certain behaviors by receiving rewards, badges, etc.
Your Website Design Should Serve a Purpose
Just because something's trendy, that doesn't necessarily mean you should do it. Your website design choices should serve a purpose and enhance your user experience. (See: How often should you redesign your website?)
When considering a website design update, you certainly don't need to incorporate all the current trends. It's nearly impossible to do so, and it wouldn't make sense to even if you could.
The best way to achieve a website that gets the results and the return on investment that you want is to discuss your project with talented, experienced website designers who pay attention to trends and then use them appropriately.
We invite you to get in touch with the WorldLight Media team of website experts to discuss your website and which of these — or other — design trends it may make sense for you to consider.
Call us at (559) 9-DESIGN, or you can click here to use our convenient online form to ask for more information.