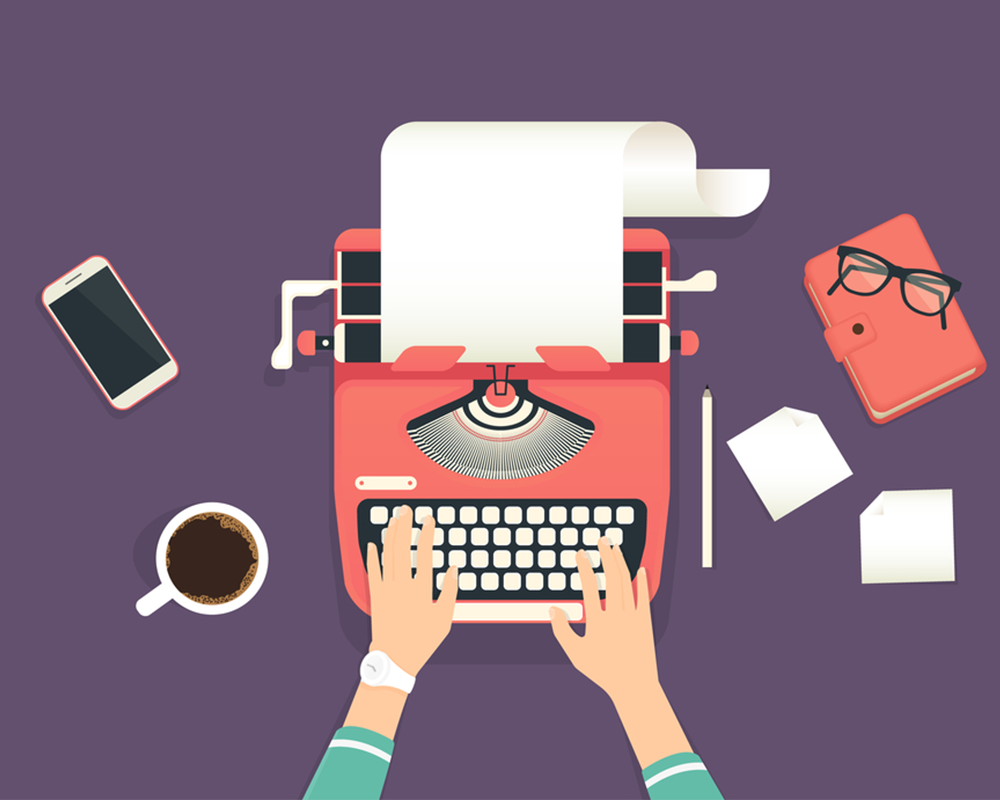 What is a ghostwriter and when would a business need to hire one? We hear this question quite a bit, and the answer might surprise you.
It's common to think that ghostwriters just help people write books. Of course, they can do that, but they can help a business with so much more.
A ghostwriter is a professional writer who is hired to create content for someone else without receiving any public credit for their work. The work may be published under the name of the client or a pseudonym, giving the impression that the client is the author.
Ghostwriters are commonly used by businesses for a wide variety of marketing projects, including website content, blog posts, social media posts, email marketing, and — yes — even books.
Benefits of Hiring a Ghost Writer for Marketing Content
One of the main benefits of hiring a ghostwriter for marketing projects is that it frees up your time and energy to focus on other aspects of your business.
Writing high-quality content can be time-consuming and requires a certain level of skill and expertise. By outsourcing this task to a professional writer, you get content that is well-written and engaging without having to invest significant time and resources into the process.
Another benefit of hiring a ghostwriter is that it can help businesses establish their brand voice and tone. A skilled, professional writer works closely with their client to understand their unique style and voice, and they can then create content that reflects this in a consistent and compelling way.
This can help businesses build brand awareness and recognition over time, as well as establish a strong connection with their audience.
Marketing Projects You Can Outsource to a Ghost Writer
There are many different types of marketing projects that a ghostwriter can help you with. Some examples include:
Website Content
A ghostwriter can help create content for a company's website, including the home page, about us page, product or service descriptions, landing pages, and more. This can help ensure that the website is engaging, informative, and easy to navigate, which can, in turn, help drive more traffic and sales.
Blog Posts
Blogging is an important part of content marketing, and a ghostwriter can help companies create high-quality blog posts on a regular basis. This can help establish the business as an authority in their industry, as well as drive more search engine traffic to their website.
Social Media Posts
Social media is a powerful marketing tool, but it can be time-consuming to create and manage content on a regular basis. A ghostwriter can help you create engaging social media posts that can help expand your reach, build your audience, and drive more traffic to your website.
Email Marketing
Email marketing is a highly effective way to reach out to customers and maintain relationships over an extended period of time. A ghostwriter can help you create compelling email campaigns that will engage and inform their subscribers, leading to higher open and click-through rates.
Books / eBooks
Of course, ghostwriters can also help businesses write and publish books on a wide variety of topics. This can be a powerful way to establish the business as an expert in their field, as well as providing a valuable resource for customers and clients.
Speeches
A well-crafted speech can be a powerful tool for businesses looking to communicate their message to a larger audience. A ghostwriter can work with business executives and leaders to craft speeches that are engaging, persuasive, and memorable.
Video Scripts
Video marketing is becoming increasingly popular, and a well-written video script can help companies create compelling and effective video content. A ghostwriter can help craft scripts that are engaging, informative, and align with the company's brand voice and message.
Case Studies
Case studies are a great way to showcase success stories and demonstrate a company's expertise and capabilities. A ghostwriter can help create compelling case studies that tell a story and demonstrate the value of your products or services.
Special Reports
Special reports are in-depth pieces of content that provide valuable insights into a particular topic or issue. A ghostwriter can help you create well-researched and informative reports that showcase your company's knowledge and expertise in a particular area.
White Papers
White papers are similar to special reports, but they are typically more focused on a particular product or service. A ghostwriter can help you create white papers that provide valuable information and insights to customers and clients, helping to build trust and establish you and your company as an authority in your industry.
Product Descriptions
A well-written product description can be the difference between a customer making a purchase or moving on to a competitor. A ghostwriter can create product descriptions that are informative, persuasive, and aligned with your company's brand voice.
Press Releases
Press releases are an important part of marketing and public relations, and a well-written release can help generate media coverage and raise awareness of your business. A ghostwriter can help you create press releases that are compelling and newsworthy, helping to generate interest from journalists and media outlets.
Marketing Collateral
Marketing collateral includes a wide range of materials, such as brochures, flyers, and sales sheets. A ghostwriter can help you create marketing collateral that is informative, engaging, and a valuable asset to your business.
Ad Copy
A ghostwriter also can help companies create effective ad copy that drives clicks and conversions. Ad copy needs to be compelling, persuasive, and aligned with the company's target audience and marketing goals. A skilled ghostwriter can help create copy that achieves these objectives.
An Excellent Investment …
As you can see there are many different types of marketing projects that a ghostwriter can help with. And hiring a ghostwriter can be an excellent investment for businesses looking to establish their brand, engage with their audience, and drive more traffic and sales.
By outsourcing the task of content creation to a professional writer, you can ensure that your content is of the highest quality, while also freeing up your own time and resources to focus on other important aspects of your business.
The writers and content creators on the WorldLight Media team are highly skilled professionals who also give you the benefit of our decades of proven digital marketing experience and strategies that get results.
We invite you to reach out to our team to talk more in-depth about how we can help you take your business to the next level. Call us at (559) 9-DESIGN, or you can click here to use our convenient online form to ask for more information. Either way, we look forward to connecting with you soon.