Web Design Trends Coming in 2020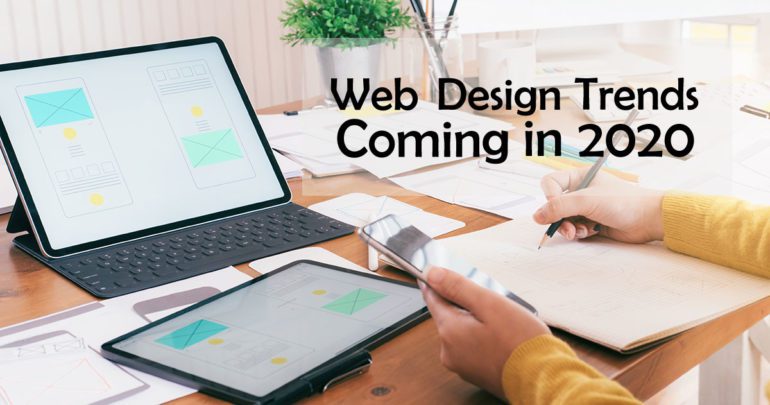 We scoured the web to discover design trends on the rise in 2020. And we're bringing you the Top 5 so you can be ahead of the curve this year.
Across the worldwide web, these trends for 2020 rose to the top and were cited among multiple experts.
Minimalist Design and Navigation are Trending in 2020

It's not just white space. Minimalist web designs often feature a hidden navigation bar with the minimum number of buttons possible. Few colors. Few fonts.

The focus is on both your products and services. Instead of fancy graphics and eye-catching designs.

Think clean, fresh and simple.


Web Design Trends in 2020 are Easier on the Eyes & More Economical

Dark mode is not only modern but also easy on the eyes. Also, your text and illustrations will appear more vivid.
Plus, dark themes often save power and extend the lifespan of your screen.

Illustrations

A growing trend of custom, detailed and well-executed illustrations adorn 2020's websites.


Just as it is with text, pairing illustrations with animation takes this trend over the top.

Geometric shapes and patterns paired with animation and a minimalist approach (see #1) maximize several trends.

Text-only Hero Headers

When a website first loads, the area at the top is hot real estate for your hero header. It's also known as the use of a hero image, text and navigation elements at the top of your homepage. Or at the top of any webpage.

In 2020, you'll see more text-only displays at the top of web designs. Also trending—animated font, such as The New York Times Food Festival, which puts both trends to good use.

Bold & Vintage Typography

Outlined fonts in bold, bright colors burst onto the scene in 2020. The nostalgic feeling that bold and vintage typography brings connect readers with your brand. So, there will be no shortage of vintage-looking fonts to boost business.