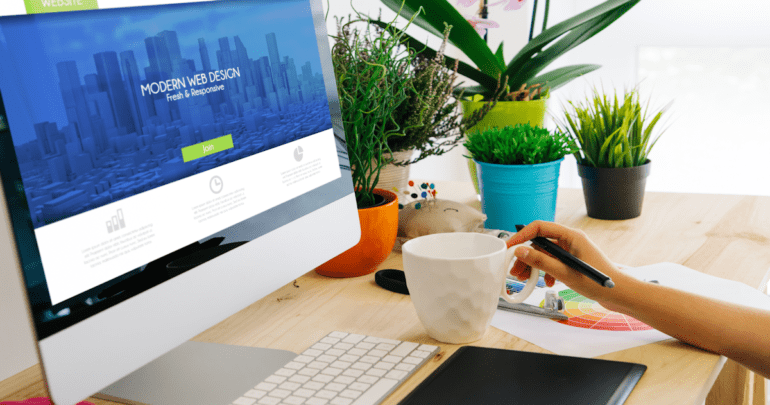 From user perception and attracting the right audience, to user experience and conversions, the impact of web design is far-reaching.
This is why we believe web design should be strategic, with careful thought going into each element. It goes much deeper than just being "pretty" or visually pleasing.
User Perception
Your website is often a prospect's first impression of you, so it's critical that your web design accurately depicts who you are and what you stand for.
The choices you make concerning web design elements such as images, videos, fonts, colors, placement of buttons, navigation … all of that speaks to who you are as a business. This makes your web design an important element of your overall branding.
If your web design is sleek and modern, that's how the user will see you. Edgy? Trendy? Serene? Outdated? Out-of-touch?
Good or bad, your web design is how people first get a sense of who you are. It tells them what's important to you. Done right, it can build your credibility and foster trust.
Attracting the Right Audience
Your web design is not just a reflection on you, it also must resonate with your intended audience.
When your ideal customer lands on your website, you want them to feel like they're in the right place. Your web design should speak to them and show them that you're relatable.
For example, do you want to attract young professionals or retirees? Big corporations or local mom-and-pop shops? Knowing your audience and what will appeal to them — what will help persuade them that you are the right choice — can help improve the effectiveness and impact of your web design.
User Experience
Let's face it … without customers, you don't have a business. So, it's important to consider the impact of web design on your user experience.
People come to your website looking for something. They're looking for information, a solution to their problem, answers to their questions.
Great web design makes it easy for the user to find what they're looking for. On the other hand, poor web design is frustrating for the user and often causes them to leave before choosing to do business with you.
How do you want someone to feel when they visit your site?
Web design — as it relates to user experience — can be the difference between a user bouncing off your site or converting them into a customer or subscriber.
Conversions
Speaking of converting a site visitor into a customer or subscriber, web design can have a major impact on your conversions.
Good web design makes it easy for the user to take action. Things like color, placement, white space, graphic elements all come together — or they should — to clearly guide the user to take the next step.
If your site visitor has to figure out on their own what to do next, they likely will do nothing. Well, nothing except leave your site and go to another that does make it easy.
Bottom Line
Ultimately, the impact of web design can be felt all the way to your bottom line. So it's critical that you get it right.
We know it's a lot to think about. We're here to help. Contact us today to start the conversation.