Pros and Cons of Updating Your Logo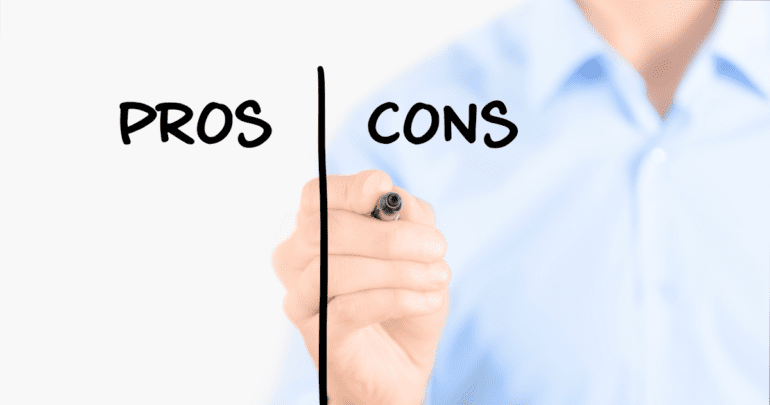 It's a major decision, and there are pros and cons of updating your logo. To help you make an informed decision of whether or not a logo redesign would be a good decision for you, let's look at a few things you should consider.
Pros of Updating Your Logo
More Accurately Reflect Who You Are Now. At one time, your logo may have been a good representation of who you are as a business. Or maybe you didn't even give that any thought at all at the time. If your logo is at least a few years old, the world has changed. Your business probably has, too. Updating your logo gives you a chance to accurately reflect who you are now.
Fresh, Modern Look. How old is your logo? Do you even remember? Graphic design best practices have evolved. Marketing aesthetics are different today than they were in years past. And like it or not, you can be judged to be less professional — less in touch with the modern world — if your logo looks outdated. On the other hand, a fresh, modern look can give the impression of being relevant and on top of things … a company that customers can trust.
Better Usability. How easy is your current logo to actually use? Do you always have the expense of having to get it printed in full process color? Can it easily be embroidered on a hat or shirt? Is it sized appropriately for invoices? For email? For all of your online marketing? Beyond a new appearance, updating your logo can make it much easier to use.
Attract More Attention. The launch of a new logo can give your marketing a real boost and attract more attention. People like bright, shiny, new things. And an updated logo can create a buzz if you want it to.
Appeal to a Different Market Segment. If you're trying to appeal to a different target audience, an updated logo may help you do so. This is especially true if that new audience you want to attract is a new generation of customers who may see the world differently and have different expectations than others.
Cons of Updating Your Logo
Possible Confusion in the Marketplace. You must consider if updating your logo will cause confusion among your current customers and your audience in general. If your current logo isn't on display much, this may not be an issue. But if your logo is a big part of your company's identity, this must be addressed.
Lose Current Brand Recognition. Will updating your logo cause you to lose your brand recognition? Maybe. It depends on how different the new logo is, how loyal your current customers are, and how much brand recognition you currently have with your existing logo. You may need to ramp up your marketing efforts to introduce the new logo and retain your brand recognition.
Expense of Updating Everything the Logo Appears On. You should evaluate where you're using your logo now. Signs, uniforms, printed marketing materials, invoices, promotional items, vehicles … will everything need to be updated with the new logo?
What's the Right Choice?
So, should you update your logo? Do the pros outweigh the cons?
We would love to discuss it with you and help you decide. Contact us or call us at (559) 9-DESIGN.