Marketing Strategies for Client Retention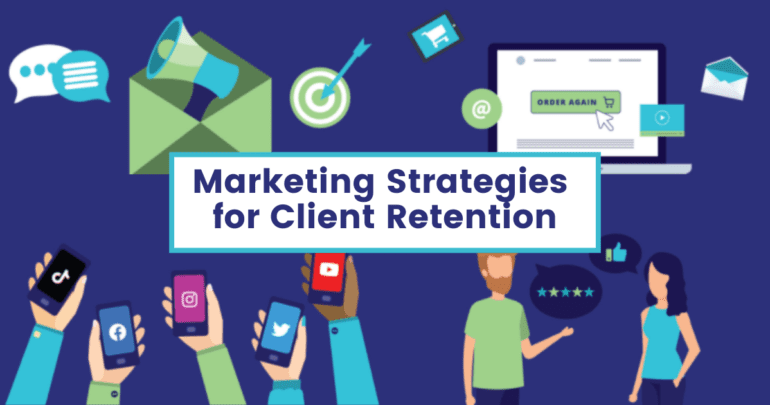 Many people don't think of using marketing strategies for client retention, but they should!
In fact, client retention is possibly one of the most important aspects of marketing.
According to the Harvard Business Review, it is 5-25 times more expensive to acquire a new customer than to keep an existing one.
And HBR also reports that if you can increase your customer retention rate by just 5%, you'll increase your profits by 25% to 95%.
It seems pretty clear that your marketing should, indeed, focus on retaining your existing customers, clients, and patients as well as bringing in new business.
So what are the most effective digital marketing tactics for customer retention?
Top 4 Marketing Strategies for Customer Retention
The top four in terms of cost effectiveness and engagement are:
Email Marketing (56% effective)
Social Media Marketing (37% effective)
Content Marketing (32% effective)
Referral Marketing (26% effective)
We have an in-depth discussion about each of these strategies as they relate to client retention in a 4-part series on the Extremely Valid Points podcast.
You can learn about the types of emails that should be included in your email marketing strategy for customer retention in Episode 012 — Marketing Strategies for Client Retention Part 1: Email Marketing.
We cover best practices and practical examples of using content marketing for client retention in Episode 013 — Marketing Strategies for Client Retention Part 2: Content Marketing.
Using social media to engage clients and increase customer retention is the topic of Episode 014 — Marketing Strategies for Client Retention Part 3: Social Media Marketing.
And you can get practical tips for implementing a referral marketing plan in Episode 015 — Marketing Strategies for Client Retention Part 4: Referral Marketing.
If you're feeling overwhelmed by all these marketing strategies, we're here to help you figure out what would be best for you to do.
If you need help implementing any of these strategies, we can help with that, too.
Contact us to learn more.