The Many Types of Facebook Posts for Businesses: How to Get More Engagement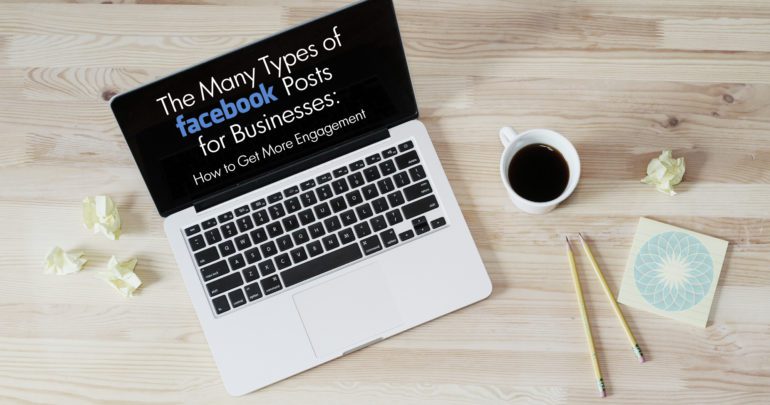 It seems like every couple of months, Facebook introduces something new for users. Not all are as huge and noticeable as say, the "reactions" rollout, but stop paying attention for too long and you'll have a tricky time catching up. The Facebook feed has rapidly evolved from text and photos to gradient backgrounds, videos, slideshows, gifs, and more. This can understandably be confusing to a business owner who wants to reach the most people and stay relevant on social media. So in order to get the most engagement on Facebook, which type of post should you use, and when?
The Standard Link
Used for directing users to landing pages, blog posts, and everything in-between, links are likely the most common post type you will see on Facebook. Be sure to take advantage of the photo preview- as in general, users "skim" their posts, not read it, and images are proven to gain more attention over plain text. Another thing to keep in mind here is that you should keep the message accompanying your link to be short if you can help it. Users have a tendency to skip over large blocks of text, so if you can keep what you want to say to 1-2 sentences, then it's much more likely to actually be read.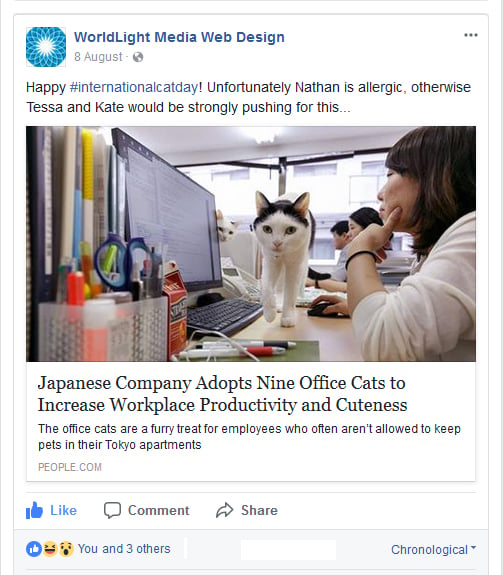 Photos & Galleries
There's really not much to say about photo posts. Make the most of them, though, by tagging the people pictured (if applicable), or even adding the location where the photo was taken!

Videos
Video is king of social media these days. Facebook places a higher priority on video content over all others- meaning it reaches more eyes and gets the most views. Don't have video content for your brand or business? Facebook has made it easy to create your own- there's a new "slideshow" option where you can upload multiple photos, select the slide duration and whether you want a fade transition, pop in some background music by uploading your own or choosing one of Facebook's free clips, and automatically a video is generated and uploaded onto your page. For our real estate client, this has made creating "home tours" an absolute snap.
A note on YouTube vs Facebook video: You may be tempted to simply link to a video on Youtube and consider it good, however by doing so you are missing out on a large amount of potential reach. Why is this? Scroll through your feed quick (I know you have the tab open). Chances are, you came across a video that began playing automatically. And chances are, you started watching it, for at least a little bit. This is, in my opinion, the biggest benefit to uploading your video directly onto Facebook. If you post a link to your video on youtube, rather than uploading it to Facebook itself, you're creating a barrier between your audience and your content. This means fewer views- and you don't want that!
CTAs
Facebook supports various Calls To Action (CTA) posts, such as posts featuring Call Now buttons, or an option to send you a message. There's also one that will open up your location on a map and provide directions- especially useful for retail stores or restaurants. No more linking to the "Contact Us" page on your website- by utilizing these goal-oriented post types, you can reduce a barrier between your audience and the action you want them to perform.
In Closing
This is of course, only a sampling of the types of posts you can make for your business on Facebook, and I have no doubt that more will be added in the future. There's also been huge advances to Facebook Messenger- did you know that you can set up an automated reply system that can completely replace a contact form? But that's for another post. Overall, don't be afraid to experiment with your Facebook posts. If you've only been posting photos, try creating a slideshow video! If you've been directing users to the Contact page on your website, give the "Call Now" post option a try. Take advantage of what's available to help reach your audience.