California Consumer Privacy Act (CCPA) Important Updates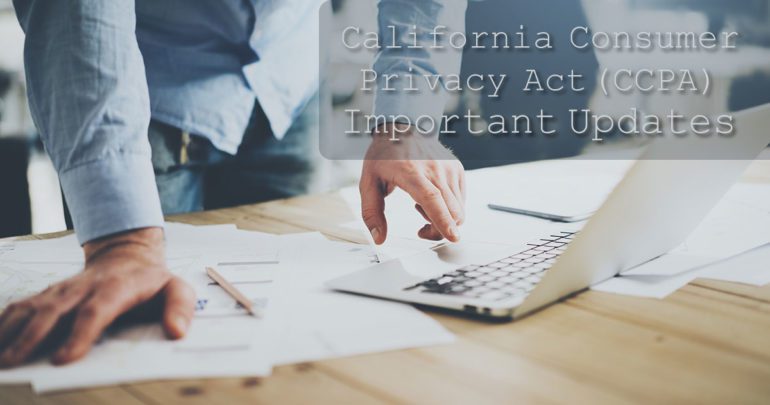 Google recently announced important updates, in regard to the California Consumer Privacy Act (CCPA).
The CCPA is a new data privacy law. Effective January 1, 2020.
"It applies to certain businesses which collect personal information from California residents" (Google Ads, November 2019).
What is the California Consumer Privacy Act?
The California Consumer Privacy Act (CCPA) of 2018 raises the bar for U.S. companies regarding data privacy regulation.
The American Bar Association (ABA) reports: early in 2018, a California real estate developer spearheaded efforts to include a new privacy law on the November 2018 California ballot. By mid-year, supporters earned a slot on the ballot.
Responsively, California legislators negotiated and passed a substitute bill (the CCPA). "The California legislator passed what is considered to be the absolute toughest data privacy law in the United States," notes the ABA.
On June 28, 2018, The California State Governor approved the California Consumer Privacy Act of 2018.
The aggressive law applies to any business with:
More than $25 million in revenue.
Privileges to buy or sell the personal information of 50,000 or more consumers.
50% or more of annual revenue derived from selling consumers' personal information.
And the ability to do any amount of business in California.
Overview of the Important CCPA Updates
Google will offer service provider terms under the CCPA. And the terms will supplement existing data protection and processing terms.
According to Google, "No additional action is required to accept the service provider terms if you've already agreed to the online data protection terms."
The service provider terms will be made available, alongside new tools for partners, so they can enable restricted data processing.
The intent of restricted data processing: it helps advertisers and partners prepare for the California Consumer Privacy Act (CCPA).
What This Means for You
Restricted data processing operates differently across different Google products.
Google states, "Some products provided by Google will automatically operate using restricted data processing, while action is required to enable restricted data processing for other products."
For more information about Google's data privacy policies. Plus, restricted data processing. And whether or not restricted data processing meets your CCPA compliance needs, visit privacy.google.com/businesses.
On the other hand, if you prefer someone else to decipher the code on compliance issues so you can focus on your business's bottom line, contact World Light Media.
We can also help you maximize your website, your online presence, and your brand.