6 Signs That You Need a New Website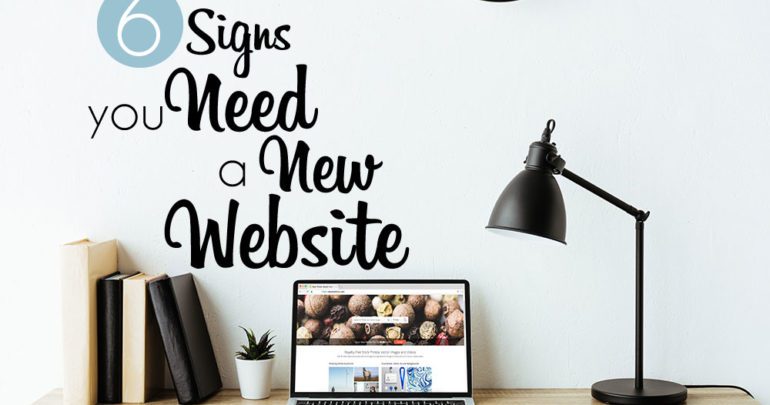 A successful website is one that is beautifully designed, easy to navigate, brings in customers, and converts sales. So how do you know if you need a new website? We're here to help you figure that out. Here are 6 signs that you need a new website.
Your Website Doesn't Have a Clear Message

A good looking website can impress potential customers, but if they don't know what you do or how to get what you offer then they'll leave. Your website needs to have a clear and concise message. Potential customers don't want to read everything you put on your website, so put the most important things first and make it noticeable. Visitors to your website should know these 3 things within 5 seconds of being on your website:

What you offer
How it makes their life better
How they get it

Your Website is Not Mobile Friendly

Eighty percent of internet users have a smartphone so it makes sense that every website should be just as easy to use on a smartphone as it is on a desktop or laptop. More than half of internet searches come from smartphones now. If your website isn't mobile-friendly, it's likely that users will leave your site and use a different one that is mobile-friendly.

Your Website is Ugly

Beautifully designed websites are becoming more important every day. As your competition updates their websites, you have to keep up if you want to compete. In a recent study, forty-eight percent said that they wouldn't trust a website if it was poorly designed. If your website is out of date it can look unprofessional, driving away potential customers.

Your Website is Slow

We live in a world where people want instant gratification. If they don't get it, they move on to somewhere else that can provide it for them. Your website loading times can be the difference of making a sale or losing one. Forty-seven percent of users expect a website to load in 2 seconds and 40% will leave a website it if takes longer than 3 seconds to load. There are a lot of factors that can affect the speed of your website:
Slow server
Images are too large
CSS isn't optimized
Too many plugins
Too many redirects
These are just some of the many things that can affect website speed.
Your Website Isn't Ranked Highly
A great website doesn't do you much good if no one can find you. You want internet users to be able to type in what they're looking for into Google and your website to be one of the first one to show up. This is done through search engine optimization (SEO), your website speed, the security of your website, how often you put up new content, etc. There are lots of things you can do to get your website up there in the search rankings. Sign up below to get our SEO Master Toolkit and start working on getting your website on the first page of search engines.
Your Website Isn't Converting Traffic
If you're noticing fewer leads coming in, it could be because your website isn't converting traffic. Your website should be designed to make it easy for potential customers to get what they need from you.