6 Essential Things Every Professional Website Must Have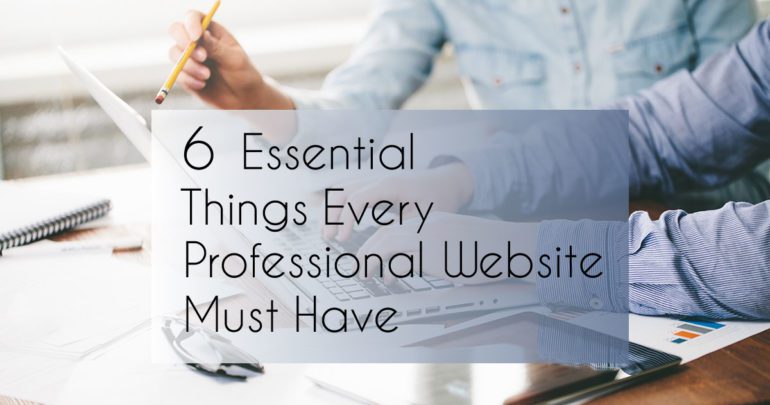 Every business wants to stand out against their competition, and one of the best ways to do that is by making your website stand out. Your website is where potential clients and customers will go to find out everything they want to know about your company. If it doesn't give them what they want in about 5 seconds, they will likely leave and move on to one of your competitors. You have to make your website stand out so that it draws in your potential clients, provides them with what they need, and how they can get it.
Innovative Design

Visually stimulate your website users with an innovative design. People judge your website very quickly so having a design that draws them in is essential to keeping them on your website. People also tend to trust a company more when the website design is up to date. Keeping up with design trends and innovating your own shows that your company is constantly working to improve upon itself, whether it be through your website design or the services you offer.

Quality Content

People are usually going to your website to find out what you do, to use your services, or to gather information about a problem they are facing. Quality content that actually gives people what they're looking for will make your company more trustworthy to your users and to search engines. Users will want to share the content you've written to promote your company, and search engines will rank your pages higher when the content is valuable to users. You should be putting out new content on your website regularly in order to improve your search rankings.

Mobile Friendly Interface

A lot of websites out there aren't optimized for mobile devices. Approximately 77% of Americans own a smartphone, and in 2018, 51% of web traffic was from mobile devices. Google also ranks websites that are mobile-friendly higher. Most people expect a website to work on mobile devices so if they don't, people will likely leave the site and go to your competition. Making your website mobile friendly will help your website stand out against your competition.

User-Friendly Interface

Your website can be beautifully designed, mobile-friendly, with quality content, but if it's too confusing to figure out, you'll lose people. The navigation on your website should be clear and concise and the copy on your website should quickly explain what your company does, how it makes your customer's life better, and how they can get it.

Video

Since people are visual creatures, video is an effective way to get your point across while engaging your customer. Your video can explain what your company does and who you are, it can give your customers instruction about what you offer, or whatever you feel is important for the customer to know.

Rank in Search Engines

In order for your website to stand out, you first need to be found. When you're looking for a service or product, how many times do you go to the 3rd or 4th page of Google search results? Probably never. You likely click on one of the first couple of options on the first page of Google search results. Ranking highly in search engine results takes a lot of constant work. To start, you have to constantly put out new, relevant, and quality content, and your website has to be mobile friendly. To learn more about how to rank highly in search engines, click here.